HOARDING ART ADDS HEART TO QUAY CONSTRUCTION
Lendlease and Two Good Co have again joined forces to promote local street artists and highlight the role gender equality has in countering domestic violence.
Local street artists competed against one another, with finalists' work exhibited on a highly visible section of Circular Quay Tower's hoarding on Underwood Street, the home of Lendlease's new urban regeneration project.
Local artists to raise the awareness
To identify the winning artist, Lendlease selected a high profile judging panel including The Honourable Pru Goward, Minister for the Prevention of Domestic Violence and Sexual assault, Sydney Lord Mayor Clover Moore and Emily McDaniel, a curator, writer and educator from the Kalari Clan of the Wiradjuri nation in central New South Wales.
"The NSW Government's vision is that all women and girls in NSW have a full access to opportunity and choice, are valued for their diversity and recognised for their contribution. We are also committed to reducing all violence against women and girls, including domestic and family violence and sexual assault. This wonderful initiative will seek the work of talented artists continue to raise awareness of these important issue," said Minister Goward.
Sydney Lord Mayor Clover Moore said wrapping major construction sites with inspired, creative works really lifted the mood of the city's street: "With our city centre experiencing unprecedented redevelopment, efforts like this go a long way to making the street level experience more enjoyable for the 1.2 million people who live work or visit the city every day. It's also a fantastic opportunity to showcase talented artists, while highlighting the urgent challenge of bridging the gender equality gap."
The mural theme the artists have illustrated aligns with Lendlease's Diversity & Inclusion Strategy, which is focused on embedding flexible work, gender equity, and building inclusive leadership. For more information, visit:
http://www.twogood.com.au/felicity2point0/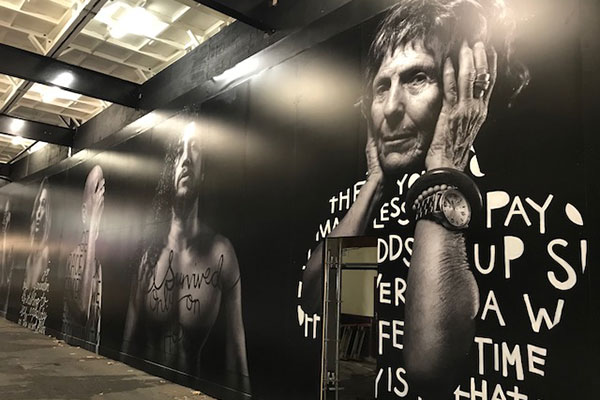 We acknowledge the Traditional Custodians of the land on which Sydney Place is located, the Gadigal people of the Eora Nation, and pay our respects to them and their elders - past, present and emerging.